Sangoma Technologies Corporation
Enhanced Unified Communications
Η Sangoma Technologies Corporation (Sangoma) είναι προμηθευτής υλικού και λογισμικού για φωνή μέσω IP που εδρεύει στον Καναδά. Τα προϊόντα φωνής, δεδομένων και βίντεο χρησιμοποιούνται σε ενοποιημένες επικοινωνίες, PBX, IVR, κέντρο επαφών και εφαρμογές επικοινωνίας δεδομένων παγκοσμίως.                                                                               Ιδρύθηκε το 1984, η Sangoma Technologies Corporation είναι εισηγμένη στο χρηματιστήριο TSX Venture Exchange                                                                                                                      Η Sangoma απέκτησε την εκδοση FreePBX Schmooze στις 2 Ιανουαρίου 2015. Το FreePBX, ένα GUI ανοικτού κώδικα (γραφικό περιβάλλον εργασίας χρήστη) που ελέγχει και διαχειρίζεται το Asterisk (PBX),  συνοδεύεται σε διάφορα προϊόντα τρίτων με βάση το Asterisk, όπως το trixbox, το PBX σε Flash και το Incredible PBX.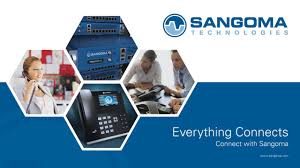 Επιλέξτε την πλατφόρμα PBX που είναι κατάλληλη για την επιχείρησή σας
Είτε είστε μικρομεσαία επιχείρηση (SMB) που θέλει να αναπτύξει οικονομικά αποδοτικό, κλιμακωτό τηλεφωνικό σύστημα ή μεγάλο Enterprise / Carrier που απαιτεί προηγμένο σύστημα ενοποιημένων επικοινωνιών, η Sangoma έχει τη λύση για εσάς.
Με τρεις πολύ διαφορετικές προσφορές, το PBXact UC – προσαρμοσμένο στις επιχειρήσεις που απαιτούν μια λύση με το κλειδί στο χέρι, PBXact UCC – Cloud PBX Solution και FreePBX – ένα αξιόπιστο λογισμικό ανοικτού κώδικα PBX, το Sangoma προσφέρει μια ολοκληρωμένη σουίτα προϊόντων που σχεδιάστηκε για να ταιριάζει στις ανάγκες επικοινωνίας σας.
Τα τηλεφωνικά μας συστήματα συνεχίζουν να κυριαρχούν στην αγορά με χιλιάδες παγκόσμιες αναπτύξεις κάθε μήνα. Με ένα μεγάλο οικοσύστημα συνεργατών, το Sangoma γίνεται όχι μόνο ο πιο αξιόπιστος πωλητής PBX στην αγορά αλλά και η προτιμώμενη επιλογή για ολοκληρωμένες λύσεις επικοινωνιών από άκρο σε άκρο.
Enhanced Unified Communications
The PBXact UC phone system is designed for organizations needing a fully featured, commercially supported, business communications turnkey solution. PBXact comes with an extensive set of Unified Communications features such as Phones Apps productivity features with Sangoma IP phones, UCP for web-based communications and Zulu UC for desktop and CRM integration, all facilitating collaboration and productivity.
PBXact is based on the world's most popular open source PBX platform, FreePBX. We bundle in advanced functionality and tightly integrate this functionality across phones, web-based user control panels and operator panels. PBXact provides one of the easiest systems for users to get started using, with little or no training.
PBXact was designed with one thing in mind: enhancing business communications to impact your bottom line. In order to accomplish that goal, we offer some really unique, tightly integrated features that allow you to custom design business communications around your needs.
PBXact UC Hardware
---
PBXact hardware is purpose built to be a high-performance UC system designed and rigorously tested for optimal performance. All Sangoma hardware carries a one year warranty with options to extend.
PBXact UC 40
Supports up to 40 licensed extensions and 30 simultaneous calls.
PBXact UC 60
Supports up to 60 licensed extensions and 40 simultaneous calls.
PBXact UC 100
Supports up to 100 licensed extensions and 60 simultaneous calls.
PBXact UC 300
Supports up to 300 licensed extensions and 120 simultaneous calls.
PBXact UC 1000
Supports up to 1000 licensed extensions and 300 simultaneous calls.
PBXact UC 5000
Supports up to 5000 licensed extensions and 1500 simultaneous calls.
Top 6 Reasons to Choose PBXact UC
PBXact UC Feature Support Included in All Systems
---
Business Features
Flexible Time-Based Call Routing
Built-In Conference Bridge
Fax to E-mail
Hunt/Ring Groups
Music on Hold
Voicemail Blasting
Find Me / Follow Me Calling
Personal IVRs
Wake Up Calls
Support for Video Calling
Secure Communications (SRTP/TLS)
Announcements
Text to Speech
Calling Queues (ACD)
Interactive Voice Response (IVR)
Calling Features
Zulu UC Desktop Application – Outlook, Browser and Softphone Integration
Three-Way Calling Support
Voicemail
Voicemail to E-mail
Caller ID Support
Call Transfer
Call Recording
Do Not Disturb
Call Waiting
Call History / Call Detail Records
Call Event Logging
Speed Dials
Caller Blacklisting
Call Screening
Telephony Support
Open Standards Support for Multiple Protocols
SIP, IAX2
PRI, T1, E1, J1, R2, POTS/Analog, ISDN, GSM (Excludes PBXact UC 10)
WebRTC
Softphone Support
Specialty Device Support
Door Phones
Overhead Paging
Strobe Alerts
Paging Gateways
Voice Gateways
Failover Devices
Desktop/Mobile Phone Support
Administration
Upgrade System with Granular Control
Bulk Import Utilities (Trunks, Extensions, Users, DIDs)
Localization in both GUI and Sound Files for Multiple Languages
Backup and Restore Utilities
Custom Destination Administration
Web-based Config File Management When Needed
System Recording Management
GUI Controls for DNS, Network Settings, and More!
User Control Panel
Responsive GUI (Desktop, Tablet, and Mobile Device)
WebRTC Softphone
Call History (Details and Recording Playback / Download)
Contact Management
Presence Management
Conference Room Management
Settings Management

Find Me / Follow Me
Call Forwarding, Call Waiting, Do Not Disturb
Call Confirmation

Voicemail

Visual Voicemail – Playback and Management
Notification Options
Greetings Management
Add-ons
The Base Platform includes a base of system enhanced features (see chart below)
Additional functionality can be added as needed:
High Availability (License Required per PBX Node, Excludes PBXact UC 40 & 60)
Call/Contact Center Features (Enhanced Call Center Functionality)
Operator Panel / Wall Boards
Third Party Phone Support (for Non-Sangoma IP Phones)