ΤΗΛΕΦΩΝΙΚΑ ΚΕΝΤΡΑ GRANDSTREAM VOIP

Grandstream Networks
Προϊόντα IP Voice & Video Communications, IP Surveillance
Ιδρύθηκε το 2002, η Grandstream Networks είναι κατασκευαστής φωνής & βίντεο IP, παρακολούθησης βίντεο καθώς και Gateways & ATAs. Το Grandstream εξυπηρετεί τις αγορές των ΜΜΕ και των καταναλωτών με ανοιχτά βασικά προϊόντα με βάση το SIP.
Τηλεφωνικά Κέντρα Grandstream UCM IP PBXs
Μία ισχυρή αλλά εύχρηστη πλατφόρμα επικοινωνιών φωνής, βίντεο, δεδομένων και κινητής τηλεφωνίας δεν ήταν ποτέ πιο εφικτή από ότι όταν ήταν αγκυροβολημένη με τη σειρά UCM IP PBX της Grandstream. Η σειρά IP PBX της UCM προσφέρει ένα ευρύ σύνολο ενοποιημένων λειτουργιών επικοινωνίας σε μια εύκολη στη διαχείριση λύση, χωρίς αμοιβές αδειοδότησης, τέλη αναβάθμισης ή κόστος ανά χαρακτηριστικά. Τα UCM μας κυμαίνονται από μικρές και μεσαίες επιχειρήσεις μέχρι λύσεις μικρών και μεσαίων επιχειρήσεων.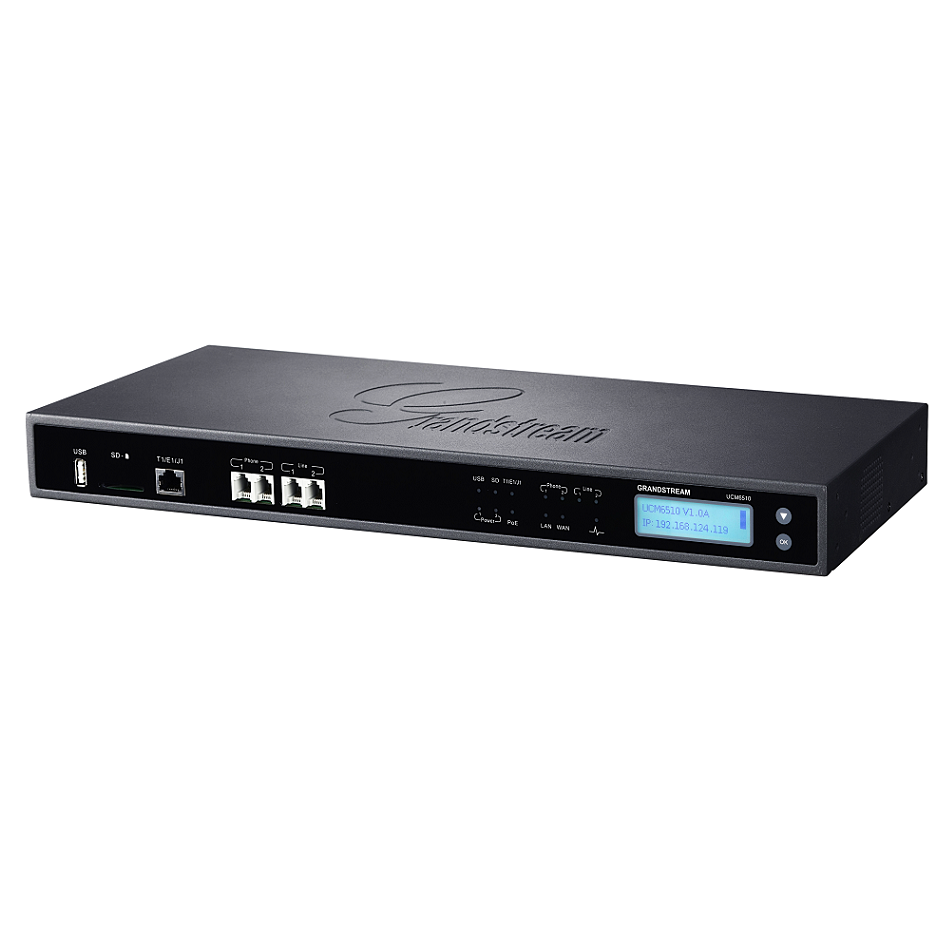 UCM6510
The UCM6510 creates an easily manageable on premise anchor to your communications network. This enterprise-grade IP PBX comes equipped with a suite of advanced call handling and network data features, all with no licensing and no fees. Its scalability offers deployments that can support up to 2000 users, and it supports E1, T1 and J1. The UCM6510 series allows businesses to unify multiple communication technologies, such as voice, video, surveillance, data tools, and facilities access management into one common platform that can be managed and accessed remotely. With features such as customizable call-routing, multi-level IVRs, call queues, auto-attendant, call detail records, multi-site peering, SIP video support, voicemail/fax forwarding to email and more, the UCM6510 delivers complete unified communications.
Features
Supports up to 2000 SIP endpoint registrations, up to 200 concurrent calls and up to 64 conference attendees
1GHz quad-core Cortex A9 processor
1GB DDR3 Ram, 32GB Flash
1 Integrated T1/E1/J1 interface, 2PSTM trunk FXO ports, 2 analog telephone/Fax FXS ports with lifeline capability, Unlimited SIP trunk accounts
Gigabit network ports with Integrates PoE, USB, SD card, integrated NAT router
Comprehensive security protection using SRTP, TLS and HTTPS with hardware encryption accelerator
Quickly setup and provision Grandstream endpoints using the Auto-Discovery and Zero Config feature within the product's web user interface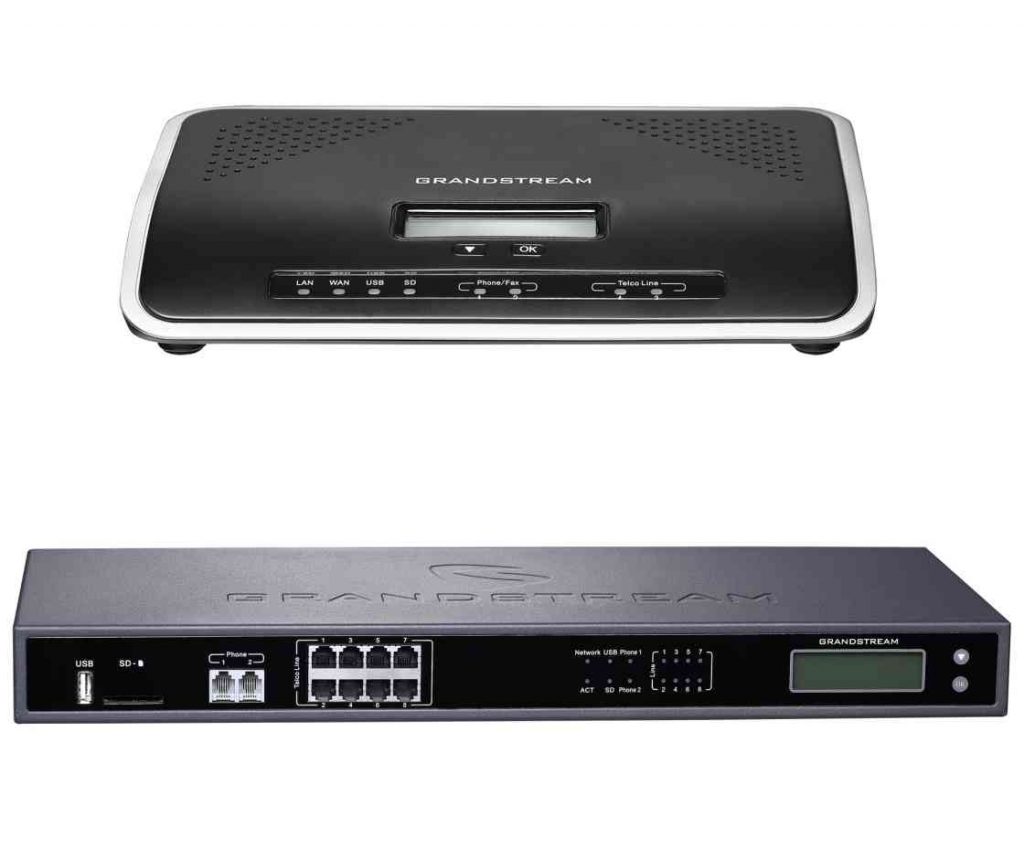 UCM6200
Designed to provide a centralized solution for the communication needs of businesses, the UCM6200 series IP PBX appliance combines enterprise-grade voice, video, data, and mobility features in an easy-to-manage solution. This IP PBX series allows businesses to unify multiple communication technologies, such as voice, video calling, video conferencing, video surveillance, data tools, mobility options and facility access management onto one common network that can be managed and/or accessed remotely. The secure and reliable UCM6200 series delivers enterprise-grade features without any licensing fees, costs-per-feature or recurring fees.
The same industry-leading platform that we designed for the UCM6100 series, which continues to be enhanced month by month with more and more features and functionalities, will be extended to the UCM6200 series. Looking for a more powerful upgrade? We have redesigned our 8 FXO port model, the UCM6208, to offer the ability to support more users and more concurrent calls, as it supports up to 800 users and up to 100 concurrent calls.
Features
UCM6202 and UCM6204 support up to 500 users and 30/45 concurrent calls, UCM6208 supports up to 800 users and 100 concurrent calls
Auto Discovery and Zero Configuration of Grandstream SIP endpoints
Integrated 2/4/8 PSTN trunk FXO ports, 2 analog telephone FXS ports with lifeline capability and up to 50 SIP trunk accounts
Gigabit network ports with Integrates PoE, USB, SD card
Supports up to a 5-level IVR (Interactive Voice Response)
Built-in call recordings server; recordings accessible via web user interface
Built-in Call Detail Records (CDR) for tracking phone usage by line, date, etc.
Supports multi-language auto-attendant and call queue to efficiently handle incoming calls
Strongest possible security protection using SRTP, TLS and HTTPS encyrption
Supports any SIP video endpoint that uses the H.264, H.263 or H.263+ codecs