ΤΗΛΕΦΩΝΙΚΑ ΚΕΝΤΡΑ  SIEMENS HICOM 110 – 120 – 130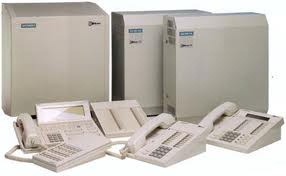 Set 191 – Ultraset Memory connected to a Set 190 – Ultraset T24 CD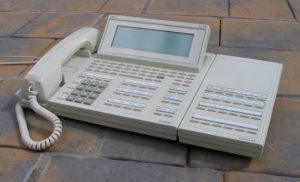 Set 151 T28 connected to a Set 150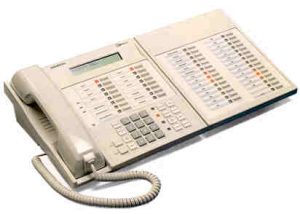 The Hicom 100 telephones above are (from left to right) Directory Keystation (Set 191), Expansion Module (Set 190 – used with Directory Keystation), DSS unit (Set 150 – used with Executive Keystation), Standard Keystation (Set 150 T16) and Executive Keystation (Set 151 T28)
The HICOM 110 (pictured front right) is a stored program controlled (S.P.C.) key telephone system utilising micro-processor control and analogue switching, (2 Wire), with analogue speech transmission.
The central control unit is wall mounted and contains the 240V AC power supply with all switching and control elements.
The HICOM 110 can be equipped for a maximum of 4 public exchange lines and 8 extensions.
There are special HICOM telephones. The Keyset 1 (see NTX24 ), Set 151 T28 (far right), Set 151 T16 (middle) or Set 191 (left) instruments may be supplied. DSS consoles are also available – Set 190 (front left) & Set 150 (middle rear).
All the system phones are 4 wire fed and the C & D wires are protected from short circuit by a 200ma delay action fuse (F351).
All power requirements are provided from the 240V a.c. mains, maximum power consumption is 80 watts. During periods of power failure 2 exchange lines are switched to emergency telephones.
The apparatus must be connected to the PSTN, host CRA, subsidiary CRA and analogue private circuits by connecting to the NTP connection box which is separately mounted.
Programming can be completed via a display terminal connected to Port 00 (first port) of the system or by a PC with PCSAT software installed.
Meter pulse boards (GEE) can be installed.
SYSTEM FEATURES
do not disturb
call forwarding
fully hands free
follow me
dss console connection
call pick-up
call barring
caller ID (internal only)
hold display messages
conference
call display call cost
camp on
transfer
ringer volume and pitch control
call park
broadcast
broker's call
message waiting
paging 12 dedicated keys
voice call 14 programmable keys
speed dialing – 800 memory store for names
auto call back
terminal lock
QWERTY keypad for input
extension PIN security code names addresses and telephone
account codes numbers
least cost routing
night service
hotel functions
music on hold
hands free
hunt groups
manager/secretary working caller ID
V24 interface display messages
optional hotel package display call cost
time & date alarm
ringer volume and pitch control
HOTEL SOFTWARE
check-in/check-out
room status
hotline
8 pre-programmable keys
baby monitor
direct internal and last/save number redial
external line access
hands free answer
itemised billing monitor
ringer volume and pitch control
Line Jack Wiring
MDF Connection Wire Colour LJU Connection
A BLUE/white 2
B WHITE/blue 5
C ORANGE/white 3
D WHITE/orange 4
System Switch settings
DIP switch Setting Mode
S251 Open MOH Melody 1
S251 Closed MOH Melody 2
S252 Open (1-2) Internal Melody R287 – Volume Control (pot)
S252 Closed (2-3) External Melody R288 – Volume Control (pot)
External MOH is connected to X10 (moh1/moh2) on the motherboard.
The 110, 120, 125 & 130 systems were superseded by 150 & 100E series